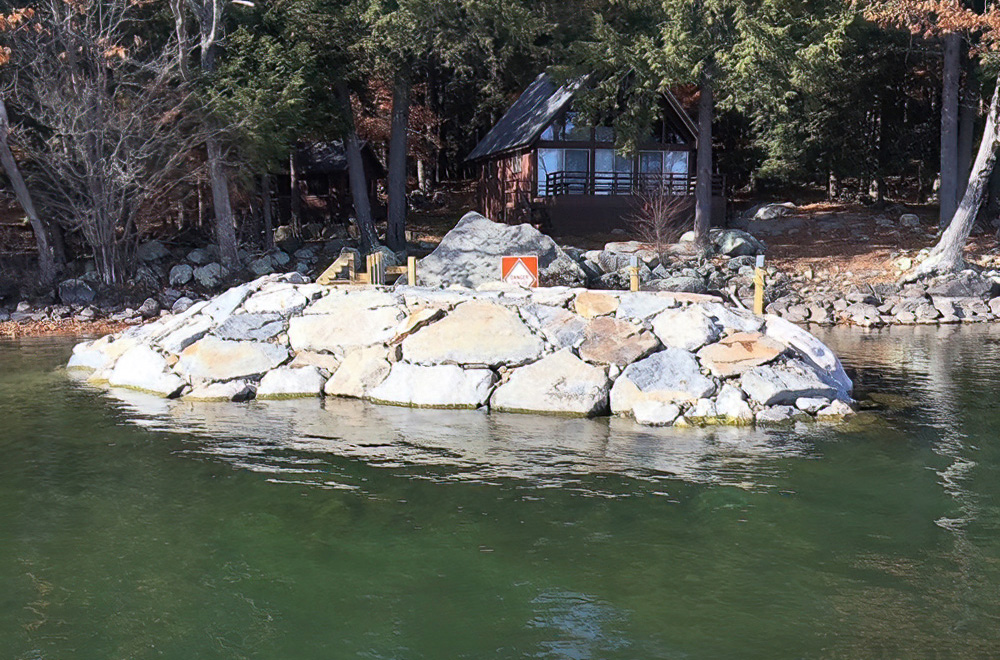 Beautify and Protect Your Waterfront
Lake Winnipesaukee is a beautiful lake. However, New Hampshire's biggest lake creates challenges for lakefront property owners that may require you to install a breakwater. Those same challenges unique to the big lake can also damage a breakwater.
Your breakwater is a crucial component of your waterfront property, designed to protect against the forces of weather, currents and boat traffic that can erode your property. Those same elements can also erode and damage an existing breakwater.
Over the years, rocks can fall out and ice can push your dock no matter what type of dock you have. During the spring, melting ice can be pushed down on the lake from strong March, April and May storms – causing damage to your breakwater.
Reasons You May Need Breakwater Repair?
Protect against erosion: A properly functioning breakwater will protect your shoreline
Protect from the erosive forces of currents and boat traffic, preserving your waterfront property.
Prevent further damage: Regular breakwater repairs will help prevent further damage and ensure that your breakwater continues to protect your property.
Maintain value: A well-maintained breakwater will not only protect your property but also help to maintain its value.
Why Choose Us for Your Breakwater Installations and Repairs?
We have been repairing residential and commercial breakwaters for decades! We understand what the four seasons of Winnipesaukee can do to breakwaters and other parts of your waterfront property.
Our experienced team uses the latest techniques and equipment for repairing and maintaining breakwaters. You'll know you're getting a well-built breakwater that will protect your waterfront property for years to come.
Don't wait until it's too late – Let's meet at your property and talk about how we can help.